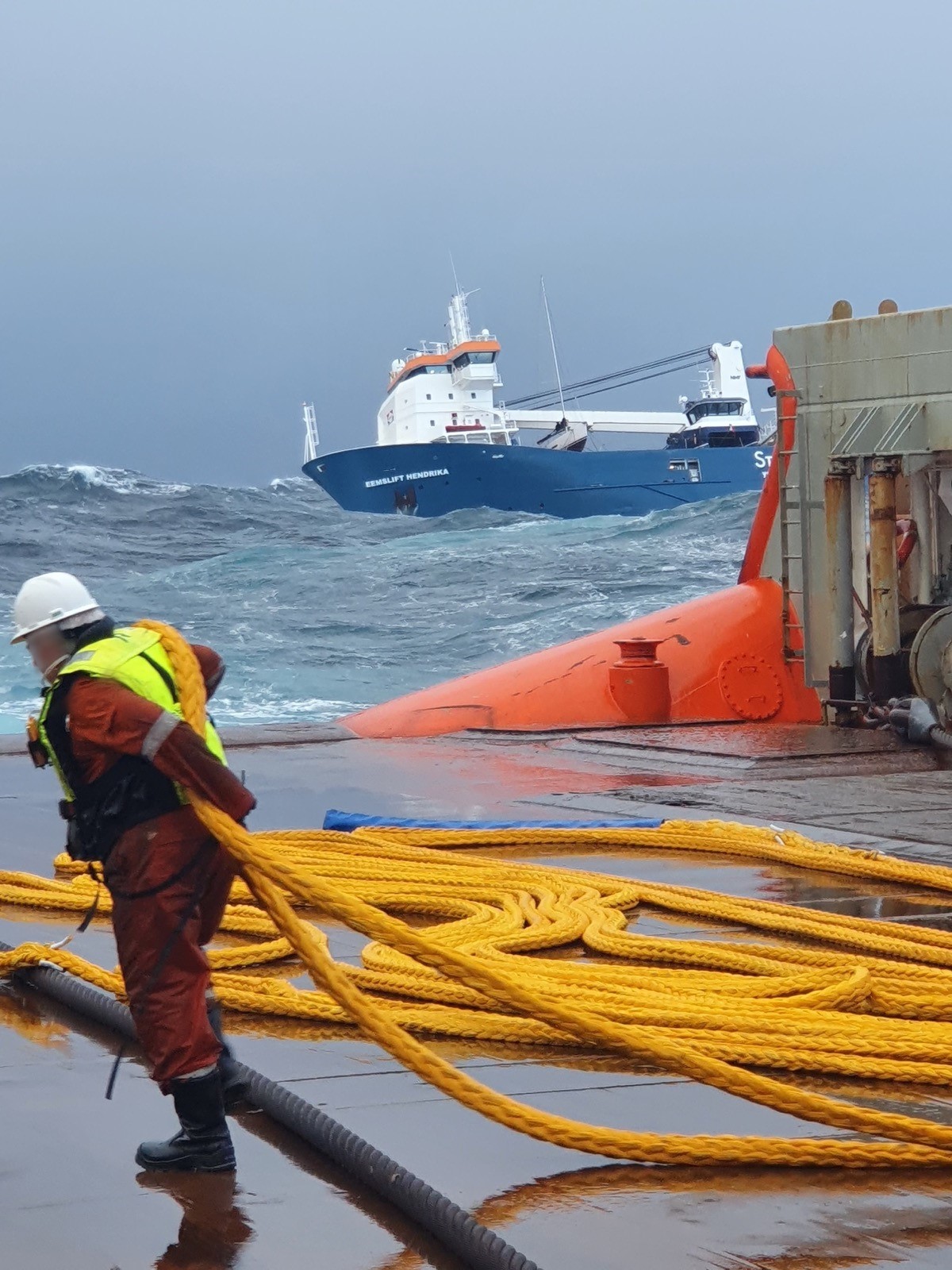 Ropes from OTS in the rescue operation of cargo ship in distress.
Offshore and Trawl Supply at Valderøy by the Norwegian North West coast responded quickly, and produced towing-ropes for the rescue operation of "Eemslift Hendrika" in a few hours.
The rope manufacturer Offshore and Trawl Supply was contacted by Solstad Shipping to deliver towing-ropes for the rescue operation of an abandonded carco vessel drifting by the North-West coast of Norway. OTS quickly resceduled the production, and and after four hours, the ropes could be delivered to the tug, Normand Drott, which was waiting at Måløy.
- There are probably not many others able to deliver such dimensions in such a short time, says Arve Helseth, Sales & Marketing Manager at OTS.
The Dutch cargo ship "Eemslift Hendrika" listed and started taking in water about 60 nautical miles off Ålesund on Monday 5 April, as the cargo shifted in full storm and rough sea. The crew was evacuated the same day, and the ship was in great danger of capsizing. A rescue operation was quickly launched to salvage the ship and prevent an environmental disaster.
- We delivered two towing-ropes for the rescue operation, both of 200 meters and which would withstand loads of 200 and 250 tons respectively. One rope was used between the cargo ship and the tug in front, Nordmand Drott, and one was used for the tug, BB Ocean, controlling the the rear end of the cargo vessel.
Solstad Shipping is very impressed by OTS's fast delivery
«Thank you so much for the fantastic effort and delivery you made on Tuesday 06 April last week.
There are not many, if any who could manage to deliver 2 x DYNEEMA for emergency towing with over 200T MBL as you did this day» says Eirik Klokkersund, Vessel Manager AHTS & PSV at Solstad Offshore ASA.
Helseth points out that flexibility and the ability to turn around quickly is one of OTS 'greatest strengths.
- We have one of Europe's most modern factories for rope-production here on Valderøya.
With skilled employees, flexible production and short lines of command, we have the ability to respond and act quickly, says Helseth.
This is not the first time OTS has contributed to major rescue operations at sea. When the cruise ship Costa Concordia grounded and sank in the Mediterranean in 2012, OTS's ropes were an important success factor in raising the ship. Ropes from OTS were also used in the salvage of the cruise ship Viking Sky, which was about to drift ashore at Hustadvika during a storm in 2017.
- The Dextron® rope used is produced here at Sunnmøre and is made of Dyneema® fiber. The rope is stronger than steel wire of the same dimension. The rope is also far more manageable as it is a fraction of the weight of wire or chain.