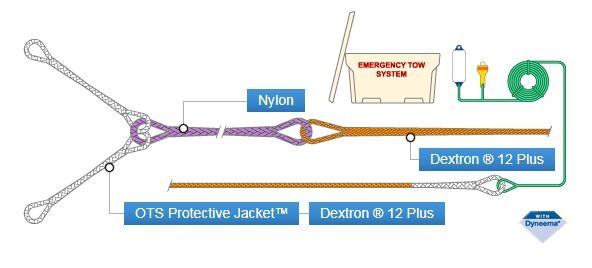 Dextron® Emergency Towing system
The Dextron® Emergency Towing system is a towing kit made in full compliance with resolution MSC.35(63) of the 1994 SOLAS convention and the amendments in MSC.256(84). The kit includes a Dextron® towing line and messenger line, and a floating light buoy. All the equipments is stored in a shock resistant plastic container with top cover closed with rubber straps.
In addition to the standard kits, the kit can be customized to meet your specific demand.
Options
Nylon stretcher as shock absorber
Bridle legs for two-point connection
OTS Protective Jacket™ standard - and High-Viz
Restech PLT, pneumatic line thrower
Pick-up grapnel with throwing line
Additional floater for increased buoyancy
DEXTRON Emergency Towing System
| Type/Product No | ETS Type | Messenger Line | Towline | ISO Strength | Assembly |
| --- | --- | --- | --- | --- | --- |
| 1 / 013301 | under 20.000 DWT | 10mm, 122m | 36mm, 76m | 114 T | 92x71x71cm |
| 2 / 013302 | 20.000 - 50.000 DWT | 16mm, 122m | 56mm, 76m | 250 T | 123x103x75cm |
| 3 / 013303 | above 50.000 DWT | 16mm, 122m | 80mm, 92m | 457 T | 147x118x89cm |