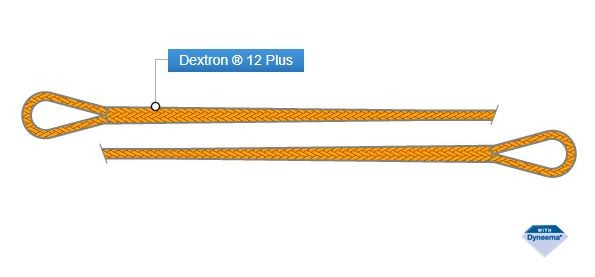 Mooring Ropes
We deliver mooring ropes for your net cages.
Contact us for a thoruogh walkthrough and recommendations.
Dextron®12 Plus
Dextron®12 Plus is a torque-free, 12-strand braided rope with maximum strength-to-weight ratio and size-for-size has the same strength as steel. Dextron®12 Plus is made with Dyneema® SK78 and is an excellent wire rope replacement with extremely low stretch, superior flex fatigue and wear resistance.
Dextron®12 Plus is Type-Approved by DNV. Download certificate
Applications

Seismic Lines
Mooring lines
Winch lines
Pick-up lines
Tug assist lines
Tow lines
Fishing Lines
SPM hawsers
Subsea installation lines
Wire rope replacement
Pennants
Lifting Slings
Grommets
Messenger Lines

Special Properties

Stronger than steel wire on corresponding diameter
8 times stronger than steel with same weight
Fast and easy to splice
Floats
High abrasion resistance
Long service life
Flexible and easy to handle
High safety – low kinetic energy (low lash back)
Torque free
Dielectric and resonance properties
Characteristics:
Material
Dyneema®SK78
Colour of rope
Yellow
Elastic elongation
0,44% at 10% of breaking load
0,62% at 20% of breaking load
0,79% at 30% of breaking load
Water absorption
None
Abrasion resistance
Very good
Fatigue resistance
Excellent
UV exposure
Very good
Chemical resistance
Excellent
Melting range
144-152 ºC
Max work temp.
65ºC
Specific density
0,98 (floating)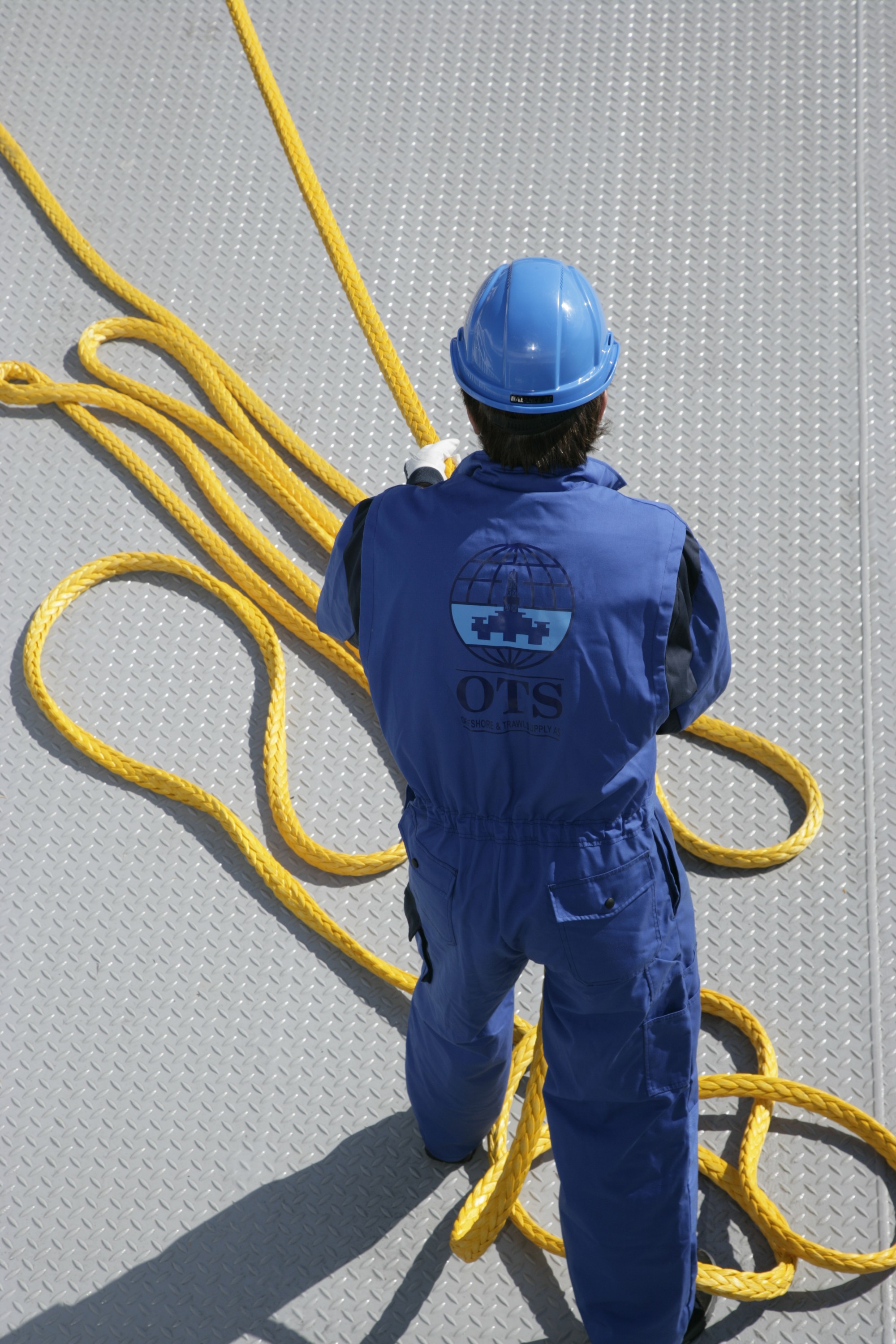 OTS Polyester 12-strand
The 12-strand polyester rope made by OTS is a torque-free rope suitable for towing pennants, towing lines, and mooring lines. Made with High Tenacity Polyester fiber (HT Polyester) the 12-strand polyester rope offer high-strength and good abrasion resistance.
APPLICATIONS

SPECIAL PROPERTIES

Fast and easy to splice
High abrasion resistance
Low elastic elongation
Same strength wet as dry
Torque free
Characteristics:
Material
Polyester
Colour of rope
Grey (or yellow with black and blue tracer)
Elastic elongation
4,0% at 20% of breaking load
7,5% at 40% of breaking load
10,5% at 60% of breaking load
Water absorption
<0,5%
Abrasion resistance
Very good
Fatigue resistance
Good
UV exposure
Good
Chemical resistance
Good
Melting range
254-260 ºC
Max work temp.
90ºC
Specific density
1,40 (non-floating)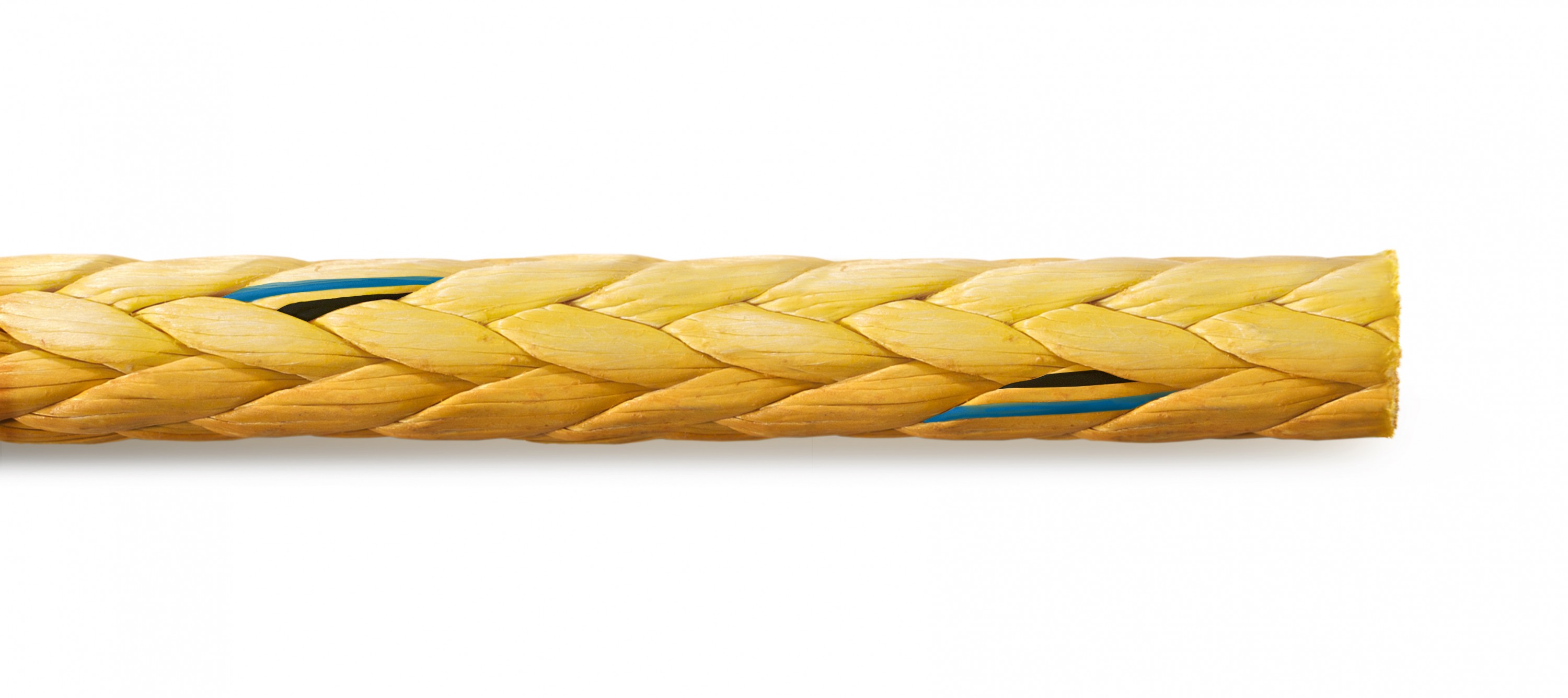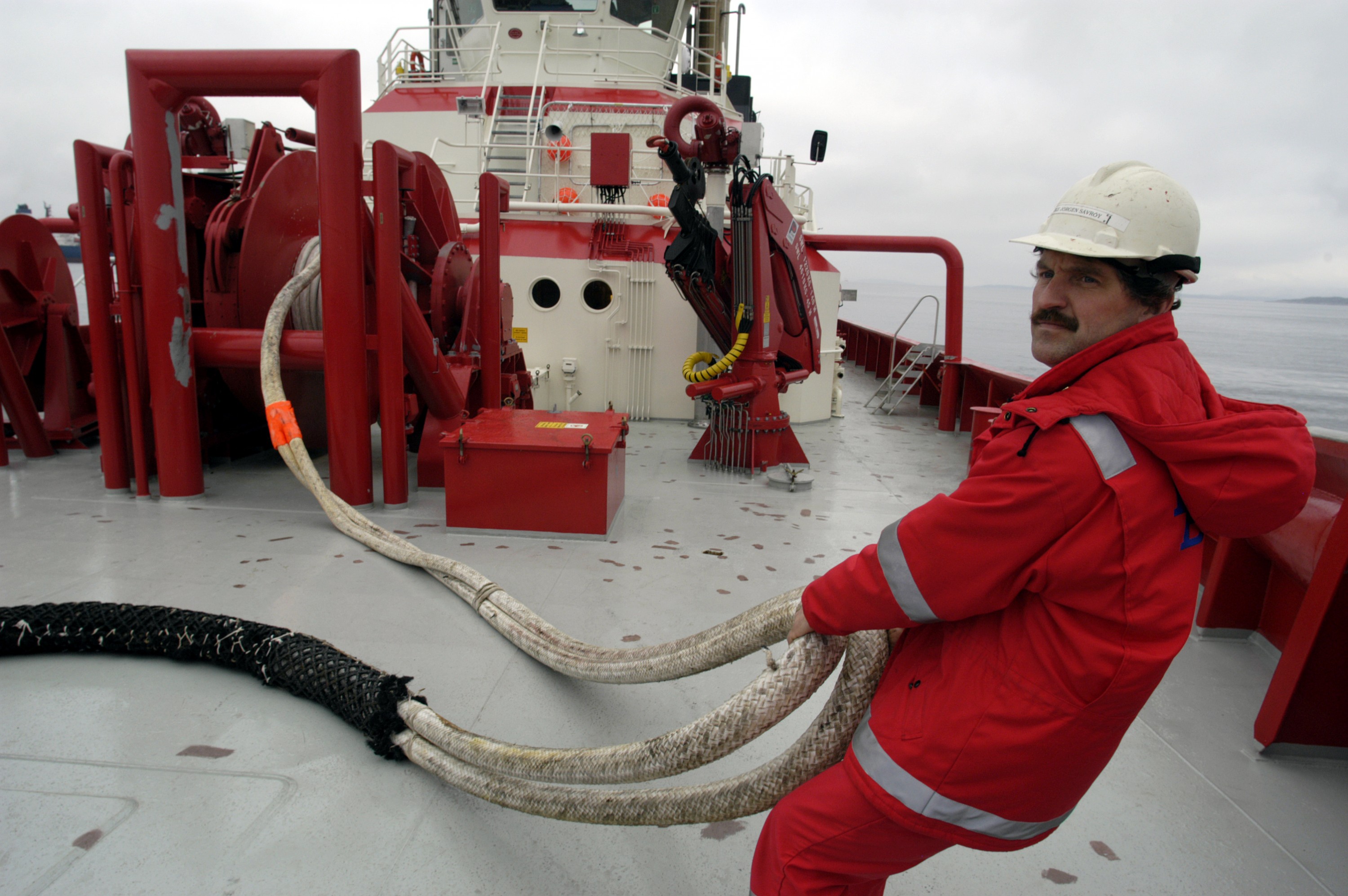 OTS Protective jacket™: Patent no: 314459
The patented chafe gear - OTS Protective jacket™ - offers excellent protection against external abrasion and increases rope lifetime with up to five times. The "no-rupture" construction combined with the worlds most abrasion resistant synthetic fibers, makes this the best cut -and abrasion resistant cover for your ropes. The jacket is mechanically braided onto the rope for a firm and solid finish.
OTS Protective jacket™ is braided in the following combinations:
Soft eyes
Soft eyes and required length (for instance over the splices)
Exposed area on the rope
Entire rope length
OTS Protective Jacket™

Made with HMPE or polyester fiber.
The OTS Protective Jacket™ comes out as a clear winner in comparative testing of abrasion and cut resistance.
Excellent protection against wear and tear.
Patented technology

Advantages

Increases service life.
Can be braided onto entire rope or exposed areas.
Prevents rope from twisting.
Protects rope from external abrasion.
Reduced size of mooring line.
Reflective material can be woven into jacket band for better visibility.
Jacket band can be delivered in any colour.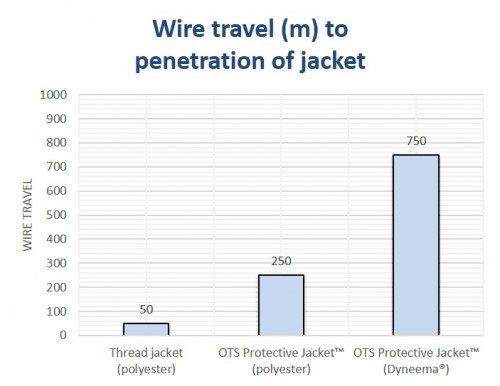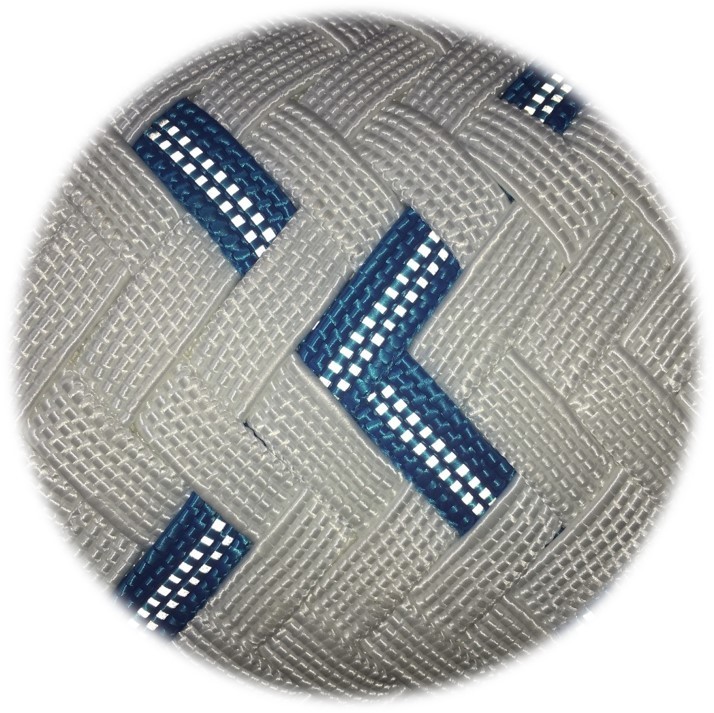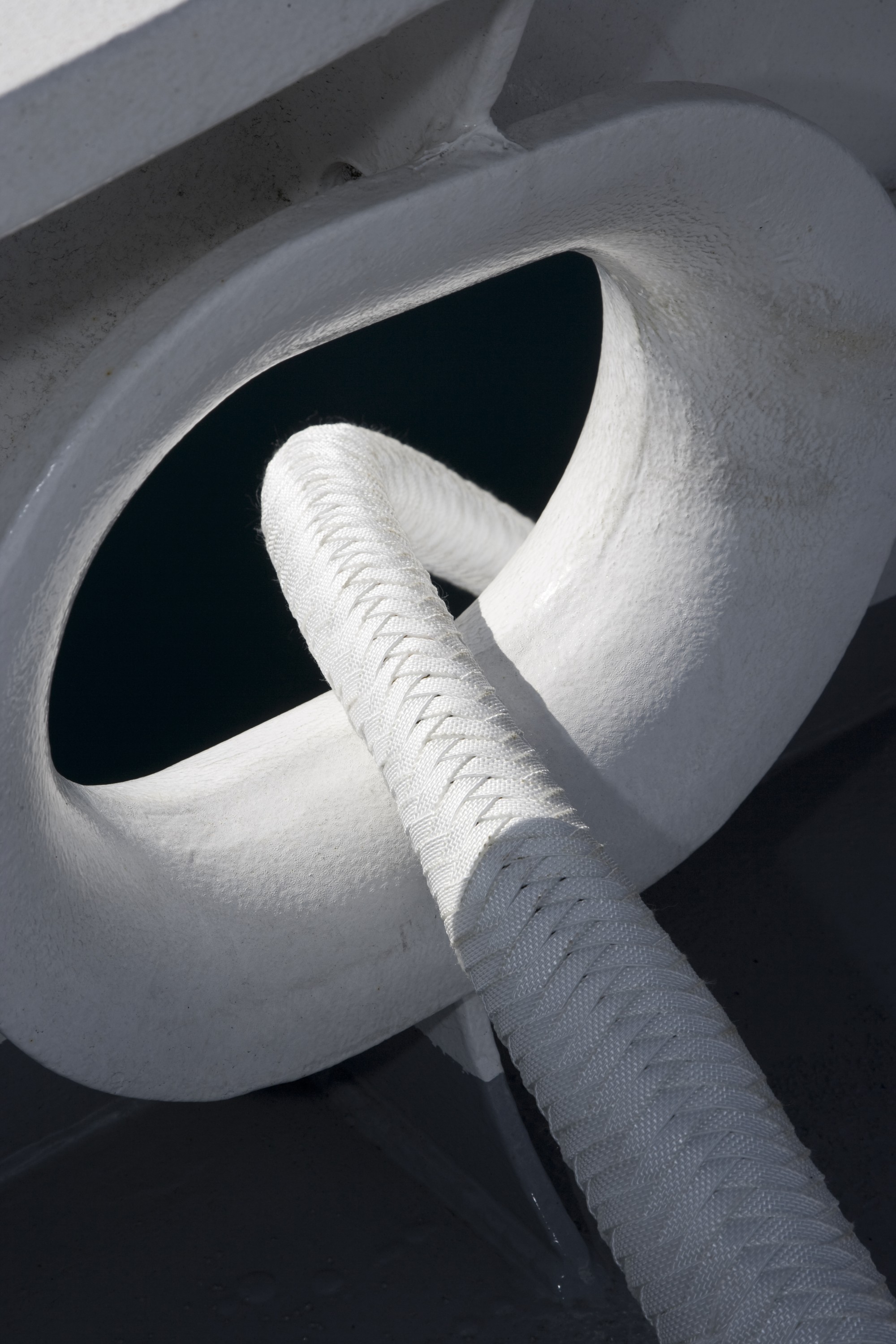 OTS Chafe Gear™
OTS Chafe Gear™ has been used by operators in the marine and oil & gas industry for over a decade, and lately it has also become more common in the fishing industry. The durable construction with its high abrasion resistance is demonstrated daily.
There are two types of OTS Chafe Gear™; a sleeve without axial velcro which is used prior to and during splicing of the rope, and a sleeve with super strong velcro which enable assembling of the sleeve anywhere on the rope without re-splicing. The chafe gear is also fitted on chains and other hardware to protect sorroundings from chafing against the hardware.
Options
Ears for fastening of seizing rope
Velcro locking straps in the ends and/or mid-sections of the sleeve
Loocking hoops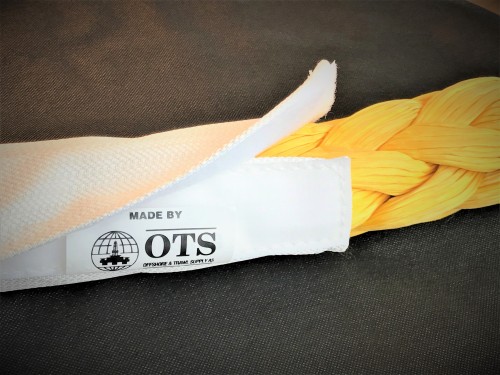 OTS Chafe Gear™ with super strong velcro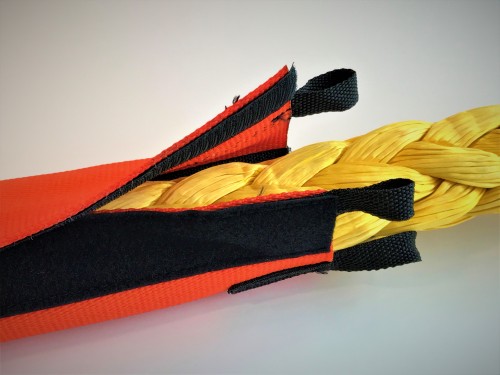 OTS Chafe Gear™ with locking hoops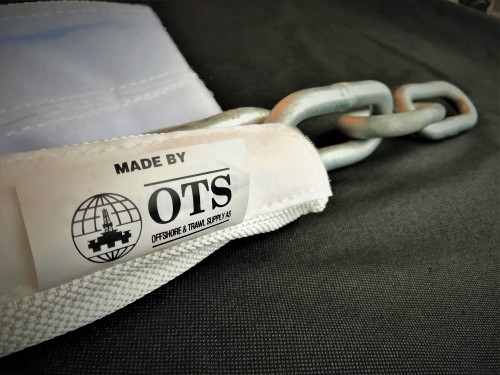 OTS Chafe Gear™ on chains