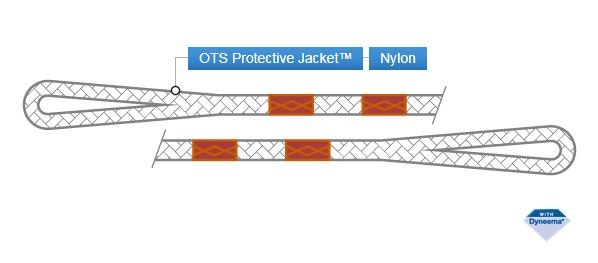 Nylon Hawsers
OTS Nylon Hawser comes in various lengths and dimensions. We deliver plain hawsers or complete tailor made arrangements with chain, shackles, buoys and additional handling ropes. The nylon hawser is fitted with OTS patented polyester jacket™ for high abrasion resistance and longer lifetime. The OTS Nylon Hawser is manufactured according to OCIMF recommendations and can be delivered with class company certificate. We also offer testing of residual strength on used hawsers.
| DIa (mm) | Mbl (t)     | mbl (kN)    | circumference |
| --- | --- | --- | --- |
| 165 | 650 | 6375 | 21" |
| 156 | 580 | 5688 | 20" |
| 105 | 250 | 2452 | 13" |
OTS Protective jacket™: Patent no: 314459
The patented chafe gear - OTS Protective jacket™ - offers excellent protection against external abrasion and increases rope lifetime with up to five times. The "no-rupture" construction combined with the worlds most abrasion resistant synthetic fibers, makes this the best cut -and abrasion resistant cover for your ropes. The jacket is mechanically braided onto the rope for a firm and solid finish.
OTS Protective jacket™ is braided in the following combinations:
Soft eyes
Soft eyes and required length (for instance over the splices)
Exposed area on the rope
Entire rope length
OTS Protective Jacket™

Made with HMPE or polyester fiber.
The OTS Protective Jacket™ comes out as a clear winner in comparative testing of abrasion and cut resistance.
Excellent protection against wear and tear.
Patented technology

Advantages

Increases service life.
Can be braided onto entire rope or exposed areas.
Prevents rope from twisting.
Protects rope from external abrasion.
Reduced size of mooring line.
Reflective material can be woven into jacket band for better visibility.
Jacket band can be delivered in any colour.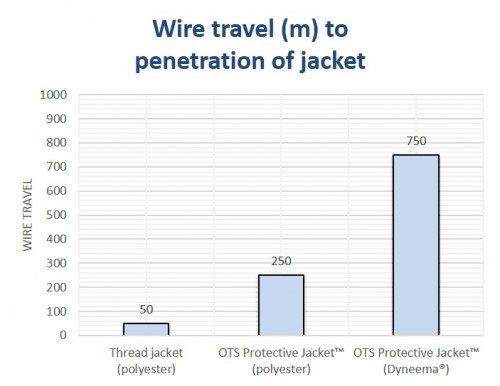 Request techical details:
Send mail to sales@otsas.no